Build essential ski skills with the Tundra Wolf Mini Skis for Snow from Team Magnus – as used by the USA Nordic & Ski Jumping Federation. These universal mini skis work with any shoe or boot to make ski sessions frequent, accessible and light.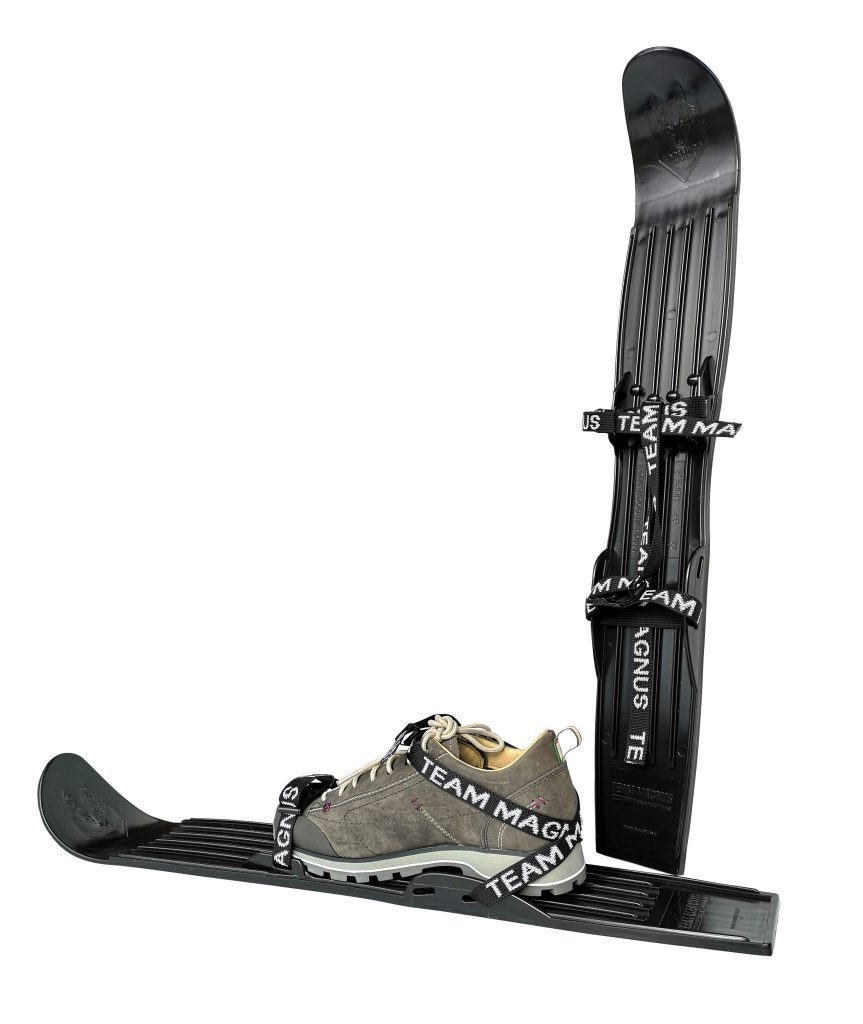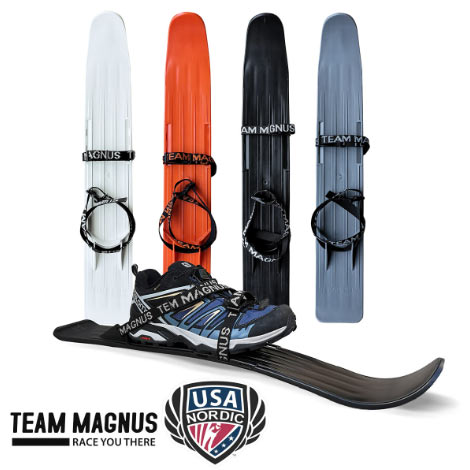 Description
---
Learning to ski: Tundra wolf mini skis for snow play allow for accessible and light ski sessions anywhere. Frequent, short sessions are ideal for fast progress when you learn how to ski. Made for regular shoes or boots, the Tundra wolf mini skis can be used with footwear up to US size 8. You can work on ski drills, tricks, jumps or just add a challenge to your snow play time for years to come with our universal skis.
High quality learner skis: Our Tundra wolf mini skis are highly durable, made from top-grade UV-resistant HDPE plastic in Helsinki, Finland. They are supplied with super tough high-quality Swedish-made ski straps. With a weight rating of up 220lbs you can enjoy a lifetime of snow play and ski skills on our mini skis.
A heritage ski style redesigned: The Tundra wolf mini skis for snow draw on the classic Canadian short skis from the 1970s. This small-profile rounded ski is perfect for kids to learn fundamental ski technique for alpine, ski-jumping or cross-country skiing. Also suitable for confident adults with strong balance who are keen on a tougher challenge than sledding in the snow when it's play time. The Tundra wolf mini skis work great on hard frost and snow. Work on your ski skills!
Team Magnus pro tip: Don't use ski poles to learn skiing and you'll develop intuitive balance. Keep a set of replacement ski straps on hand in case straps are lost in the snow/dark.
Features
---
Intended use: Snow play, ski training
Recommended age: age 3 yrs – teen
Shoe size: Any shoe or boot up to a UK size 10/EU 41
Max weight: 100kgs
Size: 65cm x 10cm
Weight: 0.7kg
Units per pack: One pair
Material: UV-resistant HDPE plastic
Made in Alloa, Scotland (skis) and Sweden (straps)